Disclaimer: this post may contain affiliate links, which earn me a commission at no additional cost to you.
I was never a big fan of romance books until the past year or so. I always thought they weren't for me, but romance is becoming one of my favorite book genres. Over the last year, I've read a lot of romance books, mostly on audio (always love a good rom com on audio!). For this book list, I wanted to compile some of my favorite romance books that have great lessons about love, feature some of my FAVORITE book couples, and are perfect for Valentine's Day.
1. The Hating Game by Sally Thorne
Lucy Hutton and Joshua Templeman hate each other. Not dislike. Not begrudgingly tolerate. Hate. And they have no problem displaying their feelings through a series of ritualistic passive aggressive maneuvers as they sit across from each other, executive assistants to co-CEOs of a publishing company. Lucy can't understand Joshua's joyless, uptight, meticulous approach to his job. Joshua is clearly baffled by Lucy's overly bright clothes, quirkiness, and Pollyanna attitude.
You either love or hate (see what I did there?!) The Hating Game, and I LOVED it. Maybe it was because I listened on audio and adored the narrator, but I finished The Hating Game in 24 hours. I enjoyed the enemies-to-lovers trope, workplace setting, and hilarious banter between Lucy and Josh. If you're looking for a romance book to make you laugh out loud, I highly recommend The Hating Game! Also, please check out the movie adaptation on Amazon, featuring Lucy Hale and Austin Stowell. I've watched it several times – it's adorable!
Links: Amazon – Libro.fm – Goodreads – My Review
2. The Love Hypothesis by Ali Hazelwood
As a third-year Ph.D. candidate, Olive Smith doesn't believe in lasting romantic relationships–but her best friend does, and that's what got her into this situation. Convincing Anh that Olive is dating and well on her way to a happily ever after was always going to take more than hand-wavy Jedi mind tricks: Scientists require proof. So, like any self-respecting biologist, Olive panics and kisses the first man she sees.
That man is none other than Adam Carlsen, a young hotshot professor–and well-known ass. Which is why Olive is positively floored when Stanford's reigning lab tyrant agrees to keep her charade a secret and be her fake boyfriend. But when a big science conference goes haywire, putting Olive's career on the Bunsen burner, Adam surprises her again with his unyielding support and even more unyielding… six-pack abs. Suddenly their little experiment feels dangerously close to combustion. And Olive discovers that the only thing more complicated than a hypothesis on love is putting her own heart under the microscope.
I also listened to The Love Hypothesis on audio and finished it within 24 hours. It was SO good! I loved the witty banter, the women in STEM focus, and Dr. Adam Carlsen (Adam Driver if was a scientist instead of a famous actor – yes please). The Love Hypothesis is a must-read for romance and rom com lovers!
Links: Amazon – Libro.fm – Goodreads – My Review
3. The Simple Wild by K.A. Tucker
Calla Fletcher was two when her mother took her and fled the Alaskan wild, unable to handle the isolation of the extreme, rural lifestyle, leaving behind Calla's father, Wren Fletcher, in the process. Calla never looked back, and at twenty-six, a busy life in Toronto is all she knows. But when her father reaches out to inform her that his days are numbered, Calla knows that it's time to make the long trip back to the remote frontier town where she was born. While she struggles to adjust to this new subarctic environment, Jonah—the quiet, brooding, and proud Alaskan pilot who keeps her father's charter plane company operational—can't imagine calling anywhere else home. And he's clearly waiting with one hand on the throttle to fly this city girl back to where she belongs, convinced that she's too pampered to handle the wild.
The Simple Wild series has such a hold on my heart! It's made me laugh, cry, grieve, and love harder. It's incredible. While all four books in the series should be included, I don't want this book list to go on forever, so I picked the first book, The Simple Wild, to represent the entire incredible series! (you can learn more about the entire Simple Wild Series here).
Links: Amazon – Libro.fm – Goodreads – My Review
4. The Soulmate Equation by Christina Lauren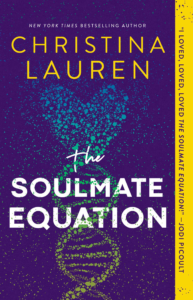 Single mom Jess Davis is a data and statistics wizard, but no amount of number crunching can convince her to step back into the dating world. Jess holds her loved ones close but working constantly to stay afloat is hard…and lonely. But then Jess hears about GeneticAlly, a buzzy new DNA-based matchmaking company that's predicted to change dating forever. Finding a soulmate through DNA? The reliability of numbers: This Jess understands.
At least she thought she did, until her test shows an unheard-of 98 percent compatibility with another subject in the database: GeneticAlly's founder, Dr. River Peña. This is one number she can't wrap her head around, because she already knows Dr. Peña. The stuck-up, stubborn man is without a doubt not her soulmate. But GeneticAlly has a proposition: Get 'to know him and we'll pay you. As the pair are dragged from one event to the next as the "Diamond" pairing that could launch GeneticAlly's valuation sky-high, Jess begins to realize that there might be more to the scientist—and the science behind a soulmate—than she thought.
This was another wonderful rom com audiobook! I loved Jess SO much; she was such a strong character (moms for the win!), and I loved that she was a woman in STEM. The Soulmate Equation was actually my first Christina Lauren, and it's safe to say, I'm a fan!
Links: Amazon – Libro.fm – Goodreads – My Review
5. Before I Let Go by Kennedy Ryan
Their love was supposed to last forever. But when life delivered blow after devastating blow, Yasmen and Josiah Wade found that love alone couldn't solve or save everything.
It couldn't save their marriage.
Yasmen wasn't prepared for how her life fell apart, but she is finally starting to find joy again. She and Josiah have found a new rhythm, co-parenting their two kids and running a thriving business together. Yet like magnets, they're always drawn back to each other, and now they're beginning to wonder if they're truly ready to let go of everything they once had.
Soon, one stolen kiss leads to another…and then more. It's all good—until old wounds reopen. Is it too late for them to find forever? Or could they even be better, the second time around?
As mentioned in my book review (link below), Before I Let Go was one of my favorite books of 2022! When I tell you I sobbed, I am not exaggerating. Ryan did an incredible job describing the grief that Yasmen and Josiah were processing and how it impacted them in very different ways. Beautiful story, beautiful book, beautiful characters. Read it!
Links: Amazon – Libro.fm – Goodreads – My Review
6. Beach Read by Emily Henry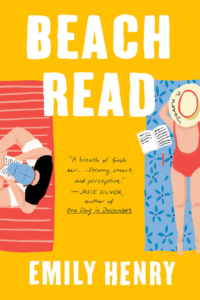 Augustus Everett is an acclaimed author of literary fiction. January Andrews writes bestselling romance. When she pens a happily ever after, he kills off his entire cast. They're polar opposites. In fact, the only thing they have in common is that for the next three months, they're living in neighboring beach houses, broke, and bogged down with writer's block.
Until, one hazy evening, one thing leads to another and they strike a deal designed to force them out of their creative ruts: Augustus will spend the summer writing something happy, and January will pen the next Great American Novel. Everyone will finish a book and no one will fall in love. Really.
If I've said it once, I've said it a million times: AUGUSTUS AND JANUARY 4 LIFE! I am so in love with this book – the characters, the witty banter, the love. I also highly recommend the audiobook, because Julia Whelan is the audiobook narration QUEEN (I've also said this a million times).
Links: Amazon – Libro.fm – Goodreads – My Review
7. People We Meet on Vacation by Emily Henry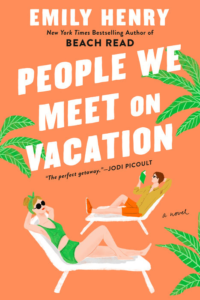 Poppy and Alex. Alex and Poppy. They have nothing in common. She's a wild child; he wears khakis. She has insatiable wanderlust; he prefers to stay home with a book. And somehow, ever since a fateful car share home from college many years ago, they are the very best of friends. For most of the year they live far apart, but every summer, for a decade, they have taken one glorious week of vacation together. Until two years ago, when they ruined everything. They haven't spoken since.
Poppy decides to convince her best friend to take one more vacation together—lay everything on the table, make it all right. Miraculously, he agrees. Now she has a week to fix everything. If only she can get around the one big truth that has always stood quietly in the middle of their seemingly perfect relationship. What could possibly go wrong?
Yes, I know I'm featuring Emily Henry twice, and I will not apologize. She is a rom com queen, and I love People We Meet on Vacation (just slightly less than Beach Read; again, AUGUSTUS AND JANUARY 4 LIFE). The end of this book had me sobbing, and Julia Whelan does the audiobook narration – see notes above.
Links: Amazon – Libro.fm – Goodreads
8. The Bromance Book Club by Lyssa Kay Adams
Nashville Legends second baseman Gavin Scott's marriage is in major league trouble. He's recently discovered a humiliating secret: his wife Thea has always faked the Big O. When he loses his cool at the revelation, it's the final straw on their already strained relationship. Thea asks for a divorce, and Gavin realizes he's let his pride and fear get the better of him.
Distraught and desperate, Gavin finds help from an unlikely source: a secret romance book club made up of Nashville's top alpha men. With the help of their current read, a steamy Regency titled Courting the Countess, the guys coach Gavin on saving his marriage. But it'll take a lot more than flowery words and grand gestures for this hapless Romeo to find his inner hero and win back the trust of his wife.
The Bromance Book Club was phenomenal, and I listened to the audiobook in a day (side note – the male narrator for the Bromance Book Club series is amazing!). I love second chance romance, especially for a couple trying to save their marriage. I grew to love all the men in the book club – special shoutout to Vlad (and most of them eventually get their own books – check out Books #2-5 in the series!).
Links: Amazon – Libro.fm – Goodreads – My Review
9. Lease on Love by Falon Ballard
After getting passed over for an overdue promotion, Sadie Green is in desperate need of three things: a stiff drink, a new place to live, and a one-night-stand. When one drink turns into one too many, Sadie mixes up a long-ignored dating app for a roommate-finding app and finds herself on the doorstep of Jack Thomas's gorgeous Brooklyn brownstone. Too bad she's more attracted to his impressive real estate than she is to the man himself.
Jack, still grieving the unexpected death of his parents, has learned to find comfort in video games and movie marathons instead of friends. So while he doesn't know just what to make of the vivaciously verbose Sadie, he's willing to offer her his spare bedroom while she gets back on her feet. The two are polar opposites, but as Sadie's presence begins to turn the brownstone into a home, they both start to realize they may have just made the deal of a lifetime.
I read Lease on Love, Falon Ballard's debut novel, in less than a day. And I cannot describe how hard I cried throughout this book. I still think and talk about the Thanksgiving dinner scenes (IYKYK). I highly, highly recommend this one! Thank you Putnam Books for the gifted copy.
Links: Amazon – Libro.fm – Goodreads – My Review
10. In the Weeds by B.K. Borison
Evelyn St. James isn't the kind of woman you forget.
Beckett Porter certainly hasn't. One incredible weekend in Maine, and he's officially a man distracted. He can't stop thinking about her. So when she suddenly appears on his farm as part of a social media contest, he is confused. He had no idea that the sweet and sexy woman he met at a bar is actually a global phenomenon: social media influencer Evelyn St. James. When she disappears again, Beckett resolves to finally forget her and move on.
But Evelyn St. James has a problem. Feeling disconnected from her work and increasingly unhappy, she's trying to find her way back to something real. She returns to the last place she was happy, Lovelight Farms and the tiny town of Inglewood. It has absolutely nothing to do with the hot farmer she spent two incredible nights with. Nothing at all.
In the Weeds is my favorite book in the Lovelight Farms series by B.K. Borison. Again, I'm a sucker for a second chance romance, and I was immediately invested in Beckett and Evelyn (they are so cute)! Also, can we talk about how gorgeous the cover is?! And I'm not just saying that because sunflowers are my favorite. In the Weeds can be read as a standalone, but I also recommend Books 1 and 3 of the series – Lovelight Farms and Mixed Signals (note that Book 4 – Business Casual – is coming out later in 2023).
Links: Amazon – Libro.fm – Goodreads – My Review
11. Seven Days in June by Tia Williams
Eva Mercy is a single mom and bestselling erotica writer, who is feeling pressed from all sides. Shane Hall is a reclusive, enigmatic, award-winning literary author who, to everyone's surprise, shows up in New York.
When Shane and Eva meet unexpectedly at a literary event, sparks fly, raising not only their past buried traumas, but the eyebrows of New York's Black literati. What no one knows is that twenty years earlier, teenage Eva and Shane spent one crazy, torrid week madly in love. They may be pretending that everything is fine now, but they can't deny their chemistry – or the fact that they've been secretly writing to each other in their books ever since.
Seven Days in June was such an emotion-packed romance book, and I loved it! The audiobook was really well done, and this book has an opening scene that will hook you immediately (IYKYK). Cannot recommend this second chance romance enough!
Links: Amazon – Libro.fm – Goodreads
12. Only When It's Us by Chloe Liese
Only When It's Us is a frenemies-to-lovers, college sports romance about a women's soccer star and her surly lumberjack lookalike classmate, complete with a matchmaking professor, juvenile pranks, and a smoking slow burn. This standalone is the first in a series of new novels about a Swedish-American family of five brothers, two sisters, and their wild adventures as they each find happily ever after.
I am in love with the Bergman Brothers series and am anxiously waiting for Book 6 – If Only You – to release later this year! Of all the books, Only When It's Us is my favorite. I cannot get enough of Willa and Ryder's relationship – the banter, the love, and affection for one another. Although this book made me laugh so much, I also sobbed and felt the deep emotion and grief of the characters. I cannot recommend this series enough (I love reading these romance books on audiobook)!
Links: Amazon – Libro.fm – Goodreads – My Review
13. Weather Girl by Rachel Lynn Solomon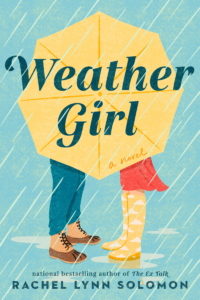 Ari Abrams has always been fascinated by the weather, and she loves almost everything about her job as a TV meteorologist. Her boss is too distracted by her tempestuous relationship with her ex-husband, the station's news director, to give Ari the mentorship she wants. Ari, who runs on sunshine and optimism, is at her wits' end. The only person who seems to understand how she feels is sweet but reserved sports reporter Russell Barringer.
In the aftermath of a disastrous holiday party, Ari and Russell decide to team up to solve their bosses' relationship issues. Between secret gifts and double dates, they start nudging their bosses back together. But their well-meaning meddling backfires when the real chemistry builds between Ari and Russell.
This was such a cute romance book that also touched on some important, but heavier, topics like depression and mental health. I also thought Weather Girl had great Jewish and body positivity representation. Also, Russell is a single dad (cue swooning).
Links: Amazon – Libro.fm – Goodreads
14. Spoiler Alert by Olivia Dade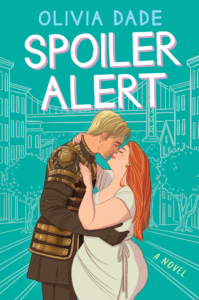 Marcus Caster-Rupp has a secret. While the world knows him as Aeneas, the star of the biggest show on TV, Gods of the Gates, he's known to fanfiction readers as Book!AeneasWouldNever, an anonymous and popular poster. But if anyone ever found out about his online persona, he'd be fired. Immediately.
April Whittier has secrets of her own. A hardcore Lavinia fan, she's hidden her fanfiction and cosplay hobby from her "real life" for years—but not anymore. When she decides to post her latest Lavinia creation on Twitter, her photo goes viral. Trolls and supporters alike are commenting on her plus-size take, but when Marcus, one half of her OTP, sees her pic and asks her out on a date to spite her critics, she realizes life is really stranger than fanfiction.
Even though their first date is a disaster, Marcus quickly realizes that he wants much more from April than a one-time publicity stunt. And when he discovers she's actually Unapologetic Lavinia Stan, his closest fandom friend, he has one more huge secret to hide from her. With love and Marcus's career on the line, can the two of them stop hiding once and for all, or will a match made in fandom end up prematurely cancelled?
While Spoiler Alert wasn't the perfect book for me, I think it has a lot of amazing characteristics that readers will love, especially the plus-size main character and the cosplay/fanfiction. I listened to Spoiler Alert on audiobook, and I think it was really well done!
Links: Amazon – Libro.fm – Goodreads
15. How To Walk Away by Katherine Center
Margaret Jacobsen has a bright future ahead of her: a fiancé she adores, her dream job, and the promise of a picture-perfect life just around the corner. Then, suddenly, on what should have been one of the happiest days of her life, everything she worked for is taken away in one tumultuous moment.
In the hospital and forced to face the possibility that nothing will ever be the same again, Margaret must figure out how to move forward on her own terms while facing long-held family secrets, devastating heartbreak, and the idea that love might find her in the last place she would ever expect.
How to Walk Away was one of my favorite reads of 2022, so I (obviously) had to include it in this list! This book isn't as light-hearted as some of the other romance books on this list. Margaret goes through tragedy, and her life is completely altered in a matter of seconds. But, this book made my Valentine's Day list because it has a beautiful message about loving yourself and others for who they truly are and finding courage to move on even when you're afraid or uncertain.
Ugh, I'm tearing up again just thinking about this beautiful book! And Ian – how can you not fall in love with Ian?! The world needs more people like Maggie and Ian.
Links: Amazon – Libro.fm – Goodreads
Are there any romance books you'd recommend for Valentine's Day?! Let me know in the comments!