Disclaimer: this post may contain affiliate links, which earn me a commission at no additional cost to you.
One of my favorite things about the end of each year is that I can look back on all the books I read (243 books in 2022…and yes, I'm also surprised I read that many) and choose which were my favorites. Because I can barely remember what I did yesterday – "mom brain" is SO real – I write down my favorite book at the end of each month that way I have a starting place each December. For 2022, I was able to pick a top fiction book and non-fiction book, which you can see here, but today I want to share my favorite book from each month of 2022.
This year, I had a variety of favorites – as expected, a mix of fiction and non-fiction, and a surprisingly high number of romance books (I didn't read very many romance novels before 2022, but now I have several romance series I love).
Without further ado, here are my favorite books of 2022!
January 2022
Part of Your World by Abby Jimenez
After a wild bet, gourmet grilled-cheese sandwich, and cuddle with a baby goat, Alexis Montgomery has had her world turned upside down. The cause: Daniel Grant, a ridiculously hot carpenter who's ten years younger than her and as casual as they come—the complete opposite of sophisticated city-girl Alexis. And yet their chemistry is undeniable.
While her ultra-wealthy parents want her to carry on the family legacy of world-renowned surgeons, Alexis doesn't need glory or fame. She's fine with being a "mere" ER doctor. And every minute she spends with Daniel and the tight-knit town where he lives, she's discovering just what's really important. Yet letting their relationship become anything more than a short-term fling would mean turning her back on her family and giving up the opportunity to help thousands of people.
Bringing Daniel into her world is impossible, and yet she can't just give up the joy she's found with him either. With so many differences between them, how can Alexis possibly choose between her world and his?
Thank you Netgalley and Forever Publishing for my gifted copy.
Links: Amazon – Libro.fm– Goodreads – My Review
February 2022
Running Wild by K.A. Tucker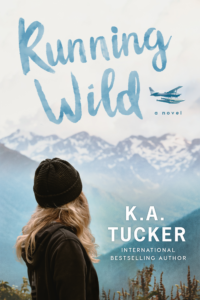 Veterinarian Marie Lehr knows unrequited love all too well after pining for her best friend, only to watch him marry another woman. It's a mistake she will never make again, especially not when she can practically hear the clock ticking on her childbearing years.
The trouble is, she can't seem to find anyone who appeals to her even a fraction as much as that burly bush pilot did. Competitive musher Tyler Brady certainly doesn't, especially not after the heated altercation with the handsome but arrogant, spiteful man. Or so she thinks.
While volunteering at the Iditarod Sled Dog Race, Marie discovers that first impressions may have been false, and her attraction to Tyler is very real. But his heart belongs to someone else, leaving him with nothing to offer but friendship. Marie's been down this road before and knows how that ends. Yet, no matter how hard she works to keep from falling for Tyler, it seems she's doomed to follow her own trail once again.
Links: Amazon – Libro.fm – Goodreads – My Review
March 2022
The Worth of Water by Gary White and Matt Damon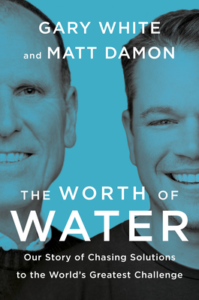 From the founders of nonprofits Water.org & WaterEquity Gary White and Matt Damon, the incredible true story of two unlikely allies on a mission to end the global water crisis for good.
On any given morning, you might wake up and shower with water, make your coffee with water, flush your toilet with water–and think nothing of it. But around the world, more than three-quarters of a billion people can't do any of that–because they have no clean water source near their homes. And 1.7 billion don't have access to a toilet. This crisis affects a third of the people on the planet. It keeps kids out of school and women out of work. It traps people in extreme poverty. It spreads disease.
It's also solvable. That conviction is what brought together movie actor Matt Damon and water expert and engineer Gary White. They spent years getting the answer wrong, then halfway right, then almost right. Over time, they and their organization, Water.org, have found an approach that works. Working with partners across East Africa, Latin America, South Asia, and Southeast Asia, they've helped over 40 million people access water and/or sanitation.
In The Worth of Water, Gary and Matt take us along on the journey–telling stories as they uncover insights, try out new ideas, and travel between the communities they serve and the halls of power where decisions get made. With humor and humility, they illuminate the challenges of launching a brand-new model with extremely high stakes: better health and greater prosperity for people allover the world.
The Worth of Water invites us to become a part of this effort–to match hope with resources, to empower families and communities, and to end the global water crisis for good. All the authors' proceeds from the sale of this book will be donated to Water.org.
Thank you Penguin Random House Audio for my gifted audiobook.
Links: Amazon – Libro.fm – Goodreads – My Review
April 2022
Paradise Falls by Keith O'Brien
The staggering story of an unlikely band of mothers in the 1970s who discovered Hooker Chemical's deadly secret of Love Canal–exposing one of America's most devastating toxic waste disasters and sparking the modern environmental movement as we know it today.
Lois Gibbs, Luella Kenny, and other mothers loved their neighborhood on the east side of Niagara Falls. It had an elementary school, a playground, and rows of affordable homes. But in the spring of 1977, pungent odors began to seep into these little houses, and it didn't take long for worried mothers to identify the curious scent. It was the sickly sweet smell of chemicals.
In this propulsive work of narrative storytelling, NYT journalist Keith O'Brien uncovers how Gibbs and Kenny exposed the poisonous secrets buried in their neighborhood. The school and playground had been built atop an old canal–Love Canal, it was called–that Hooker Chemical, the city's largest employer, had quietly filled with twenty thousand tons of toxic waste in the 1940s and 1950s. This waste was now leaching to the surface, causing a public health crisis the likes of which America had never seen before and sparking new and specific fears. Luella Kenny believed the chemicals were making her son sick.
O'Brien braids together previously unknown stories of Hooker Chemical's deeds; the local newspaperman, scientist, and congressional staffer who tried to help; the city and state officials who didn't; and the heroic women who stood up to corporate and governmental indifference to save their families and their children. They would take their fight all the way to the top, winning support from the EPA, the White House, and even President Jimmy Carter. By the time it was over, they would capture America's imagination.
Sweeping and electrifying, Paradise Falls brings to life a defining story from our past, laying bare the dauntless efforts of a few women who–years before Erin Brockovich took up the mantle– fought to rescue their community and their lives from the effects of corporate pollution and laid foundation for the modern environmental movement as we know it today.
Thank you Pantheon Books for my gifted copy.
Links: Amazon – Libro.fm – Goodreads – My Review
May 2022
Brain on Fire by Susannah Cahalan
An award-winning memoir and instant New York Times bestseller that goes far beyond its riveting medical mystery, Brain on Fire is the powerful account of one woman's struggle to recapture her identity.
When twenty-four-year-old Susannah Cahalan woke up alone in a hospital room, strapped to her bed and unable to move or speak, she had no memory of how she'd gotten there. Days earlier, she had been on the threshold of a new, adult life: at the beginning of her first serious relationship and a promising career at a major New York newspaper. Now she was labeled violent, psychotic, a flight risk. What happened?
In a swift and breathtaking narrative, Cahalan tells the astonishing true story of her descent into madness, her family's inspiring faith in her, and the lifesaving diagnosis that nearly didn't happen.
Links: Amazon – Libro.fm – Goodreads – My Review
June 2022
Everything For You by Chloe Liese
Gear up for an all-the-feels, steamy slow-burn in this enemies-to-lovers sports romance about fighting for love when life's taught you it's a losing game.
Gavin
We've been teammates for two years, but it feels like a lifetime that Oliver Bergman's been on my last nerve. A demanding captain and veteran player, I'm feared and friendless, while he's the beloved rising star, all sunshine smiles and upbeat team spirit. To make matters worse, he's obscenely attractive. In short: he's genetically designed to get under my skin.
Avoiding Oliver has been my survival tactic on and off the field. But when Coach drops the bomb that we're now co-captains, avoiding him becomes impossible, and keeping the truth from him–let alone my distance–is harder than ever.
Oliver
Life was great until soccer legend Gavin Hayes joined the team and proved he's nothing like the guy I grew up idolizing. Instead, he's a giant–albeit gorgeous–grump who lives to rain on my parade. I've sworn off pranks since entering the public eye, so rather than settle our differences the Bergman way, I've had to settle for killing Gavin with kindness. There's just one problem: killing him with kindness is killing me.
To make matters worse, Coach gives us an ultimatum: put an end to our enmity or say goodbye to being captains. I'm prepared to be miserable while we meet her demands and make nice, but the last thing I expect is to discover an explosive attraction we can't help but act on, and worse yet, to realize the man hiding beneath Gavin's gruff exterior is all I've ever wanted.
Links: Amazon – Libro.fm – Goodreads – My Review
July 2022
How to Walk Away by Katherine Center
Margaret Jacobsen has a bright future ahead of her: a fiancé she adores, her dream job, and the promise of a picture-perfect life just around the corner. Then, suddenly, on what should have been one of the happiest days of her life, everything she worked for is taken away in one tumultuous moment.
In the hospital and forced to face the possibility that nothing will ever be the same again, Margaret must figure out how to move forward on her own terms while facing long-held family secrets, devastating heartbreak, and the idea that love might find her in the last place she would ever expect.
Links: Amazon – Libro.fm – Goodreads
August 2022
Lovelight Farms by B.K. Borison
Where the lovelight gleams …
A pasture of dead trees. A hostile takeover of the Santa barn by a family of raccoons. And shipments that have mysteriously gone missing. Lovelight Farms is not the magical winter wonderland of Stella Bloom's dreams.
In an effort to save the Christmas tree farm she's loved since she was a kid, she enters a contest with instafamous influencer Evelyn St. James. With the added publicity and the $100,000 cash prize, she might just be able to save the farm from its financial woes. There's just one problem. To make the farm seem like a romantic destination for the holidays, she lied on the application and said she owns Lovelight Farms with her boyfriend. Only … there is no boyfriend.
Enter best friend Luka Peters. He just came home for some hot chocolate, and somehow got a farm and a serious girlfriend in the process.
Links: Amazon – Libro.fm – Goodreads
September 2022
When I Ran Away by Ilona Bannister
As the Twin Towers collapse, Gigi Stanislawski flees her office building and escapes lower Manhattan on the Staten Island Ferry. Among the crying, ash-covered, and shoeless passengers, Gigi, unbelievably, finds someone she recognizes–Harry Harrison, a British man and a regular at her favorite coffee shop. Gigi brings Harry to her parents' house, where they watch the television replay the planes crashing for hours, and she waits for the phone call that will never come: the call from Frankie, her younger brother.
Ten years later, Gigi, now a single mother consumed with bills and unfulfilled ambitions, meets Harry, again by chance, and they fall deeply, headlong in love. But their move to London and their new baby–which Gigi hoped would finally release her from the past–leave her feeling isolated, raw, and alone with her grief. As Gigi comes face-to-face with the anguish of her brother's death and her rage at the unspoken pain of motherhood, she must somehow find the light amid all the darkness. Startlingly honest and shot through with unexpected humor, When I Ran Away is an unforgettable first novel about love–for our partners, our children, our mothers, and ourselves–pushed to its outer limits.
Links: Amazon – Libro.fm – Goodreads – My Review
October 2022
The Winners by Fredrik Backman
Two years have passed since the events that no one wants to think about. Everyone has tried to move on, but there's something about this place that prevents it. The residents continue to grapple with life's big questions: What is a family? What is a community? And what, if anything, are we willing to sacrifice in order to protect them?
As the locals of Beartown struggle to overcome the past, great change is on the horizon. Someone is coming home after a long time away. Someone will be laid to rest. Someone will fall in love, someone will try to fix their marriage, and someone will do anything to save their children. Someone will submit to hate, someone will fight, and someone will grab a gun and walk towards the ice rink.
So what are the residents of Beartown willing to sacrifice for their home?
Everything.
Thank you Simon & Schuster Audio for my gifted audiobook.
Links: Amazon – Libro.fm – Goodreads – My Review
November 2022
What My Bones Know by Stephanie Foo
"Every cell in my body is filled with the code of generations of trauma, of death, of birth, of migration, of history that I cannot understand. . . . I want to have words for what my bones know."
By age thirty, Stephanie Foo was successful on paper: She had her dream job as an award-winning radio producer at This American Life and a loving boyfriend. But behind her office door, she was having panic attacks and sobbing at her desk every morning. After years of questioning what was wrong with herself, she was diagnosed with complex PTSD–a condition that occurs when trauma happens continuously, over the course of years.
Both of Foo's parents abandoned her when she was a teenager, after years of physical and verbal abuse and neglect. She thought she'd moved on, but her new diagnosis illuminated the way her past continued to threaten her health, relationships, and career. She found limited resources to help her, so Foo set out to heal herself, and to map her experiences onto the scarce literature about C-PTSD.
In this deeply personal and thoroughly researched account, Foo interviews scientists and psychologists and tries a variety of innovative therapies. She returns to her hometown of San Jose, California, to investigate the effects of immigrant trauma on the community, and she uncovers family secrets in the country of her birth, Malaysia, to learn how trauma can be inherited through generations. Ultimately, she discovers that you don't move on from trauma–but you can learn to move with it.
Powerful, enlightening, and hopeful, What My Bones Know is a brave narrative that reckons with the hold of the past over the present, the mind over the body–and examines one woman's ability to reclaim agency from her trauma.
Links: Amazon – Libro.fm – Goodreads – My Review
December 2022
Before I Let Go by Kennedy Ryan
Their love was supposed to last forever. But when life delivered blow after devastating blow, Yasmen and Josiah Wade found that love alone couldn't solve or save everything.
It couldn't save their marriage.
Yasmen wasn't prepared for how her life fell apart, but she's is finally starting to find joy again. She and Josiah have found a new rhythm, co-parenting their two kids and running a thriving business together. Yet like magnets, they're always drawn back to each other, and now they're beginning to wonder if they're truly ready to let go of everything they once had.
Soon, one stolen kiss leads to another…and then more. It's hot. It's illicit. It's all good—until old wounds reopen. Is it too late for them to find forever? Or could they even be better, the second time around?
Links: Amazon – Libro.fm – Goodreads – My Review
What were your favorite books of 2022? Was it any of these? Let me know in the comments!