Disclaimer: this post may contain affiliate links, which earn me a commission at no additional cost to you.
I've been on "bookstagram" (the book-obsessed corner of Instagram) for a few years now. And I still love it so much. I've made so many friends, learned a lot, and added hundreds of books to my "to be read" (TBR) list. One of my biggest struggles when I started a bookstagram account was thinking of bookstagram content ideas. I didn't want to post the same thing every day, but it was hard to know WHAT to post. Over the past few years, I've accumulated quite a list of bookstagram content ideas, and I'm sharing 20 of them below!
1. Book Review
Isn't this the entire point of bookstagram?! I (and many others) joined the bookstagram community because we wanted to share our thoughts on books and see what others are reading. Do NOT be afraid to post book reviews for your audience! The picture above is from my book review for Liar, Dreamer, Thief by Maria Dong (thank you Grand Central Publishing for the gifted copy).
2. Meet the Bookstagrammer
I wish I would've done a "meet the bookstagrammer" post sooner, but I did not feel like showing my face (weird, I know). These types of posts are great bookstagram content for new bookstagrammers and those who have been around awhile but may not have shared about themselves lately. I always love seeing these posts and learning more about the people I interact with online.
3. Book Lists
Book lists are a personal favorite in my list of bookstagram content ideas. I absolutely love curated lists of books that center on a specific topic. I've created several on my Instagram page and here on my blog (and I have dozens of ideas for future lists). The photo above is one of my favorite book lists – books about the medical and pharmaceutical industries.
4. Book Recommendation
Next up on my list of bookstagram content ideas is book recommendation. This is similar to a book review (and is many times the same, since you might recommend a book you've reviewed), but it can also be separate from a review. There are books I've read years ago – before bookstagram – and I don't remember enough detail to write a full review, but I know I loved the book and want to post about it. Or maybe I just don't have the energy to write a full-fledged book review. This is where a book recommendation post can come in handy!
5. Favorite Book
Sharing your favorite book is always a great bookstagram content idea. I love seeing other bookstagrammers' favorite books and the reasons why they love the book so much. These are some of my favorite posts to engage with! In the photo above, you can see my favorite book – The Glass Castle by Jeannette Walls.
6. Reading Space
Let's be honest – people on bookstagram always want to see your reading space (at least, I do). When I moved into my new house and designed my own reading room, I was so excited to have a dedicated place to read and store my books. And now I can also use it for bookstagram content every now and then (okay, it's more often than that. But look how gorgeous it is?!). The photos above are a snapshot of my reading room, and you can see more photos of my reading room here on my blog.
7. Book Stack Challenges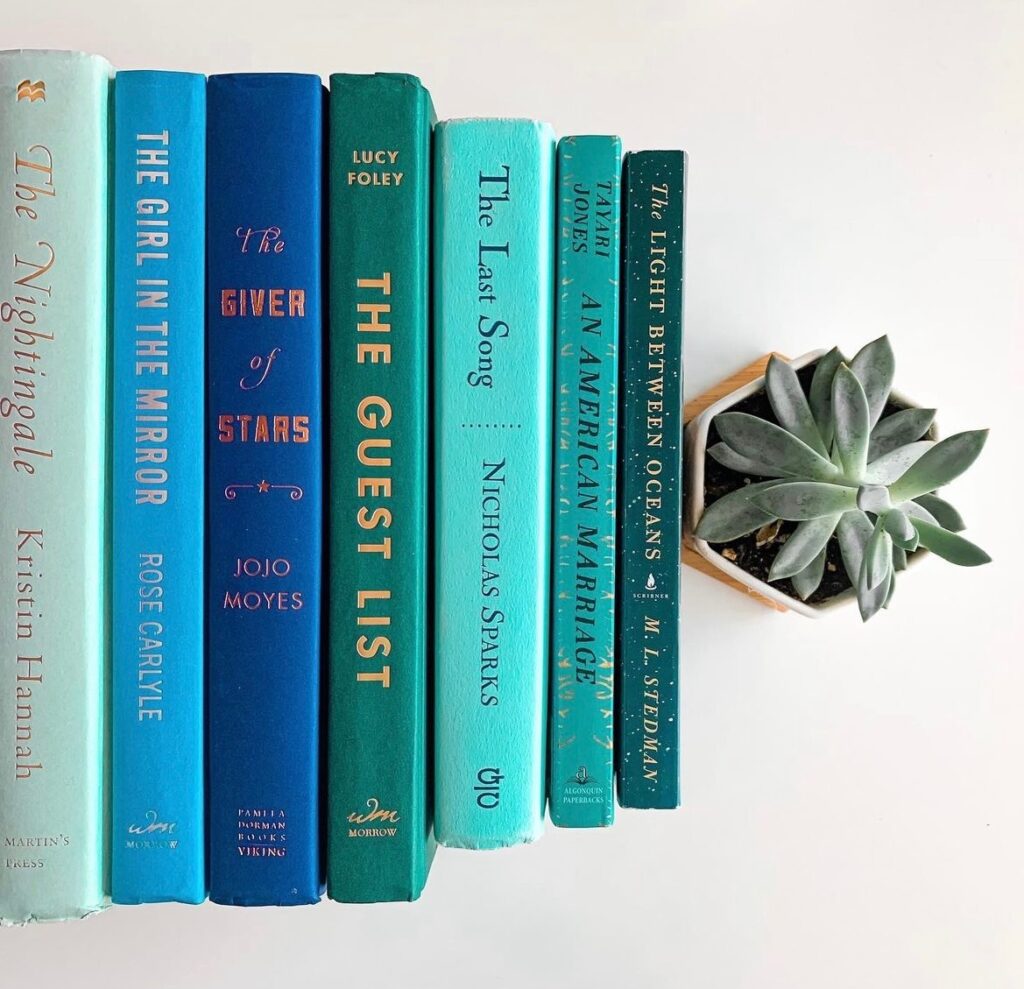 I love the creative book stack challenges that people come up with, and I try to participate in as many as possible. Book stack challenges are great to have on your list of bookstagram content ideas because there are SO many, and you can sprinkle them on your profile in between reviews and other posts. The photos above are three book stack challenges I participated in – click the photos to learn more about the book stack challenges!
8. Book Shopping
Reading books and shopping for books are two completely different hobbies, and I am here for BOTH. I read books so I can make room on my shelves for more books (don't tell my husband). Whenever I need a "pick-me-up" or am traveling, I try to find local bookstore to visit and shop. There's something so special about a local indie bookstore. The photo above was taken at Midtown Scholar in Harrisburg, Pennsylvania.
9. Book Mail
A common post you see on bookstagram is the book mail post. Bookstagrammers may receive books from authors and publishers in the mail and sometimes have requirements to post/highlight the books (myself included). Because of this, posting book mail is a good idea to add to your bookstagram content rotation.
10. Currently Reading
On days where you might not have a lot of time to prepare, a "currently reading" post is a great content idea. Typically, I lay my book down on a blanket or flat surface, snap a quick photo, and then post it along with a brief caption about what I'm reading, how I'm liking it, and my goal for the week. Easy enough, right?
11. Last, Now, Next
A "last, now, next" post is always a good idea to break up book review posts and increase engagement on your posts. The objective of the post is implied by the name; you share you last read, your current read, and then the book(s) you're reading next. Sometimes when I do this post, I list several potential options as "next" and ask my followers to help me decide!
12. Monthly TBR List
A very common post you'll see on many bookstagram accounts is a list/stack/pile of potential books to read for the month. A lot of bookstagrammers – myself included – like to set goals and try to plan out their reads each month. One way to do this while engaging your audience is posting a "to be read" list at the beginning of each month.
13. 5-Star Book Predictions
I've seen 5-star book prediction posts a few times recently and decided to try my own. It was actually a great idea, and I loved seeing comments on my post about how others rated the books after they read them. Additionally, this content idea is a good way to prioritize those potential 5-star reads on your shelves!
14. #thrillerthursday
Technically, #thrillerthursday could be considered a book stack challenge, but I gave this challenge it's own place on my list of bookstagram content ideas because this is one of the most commonly used thriller hashtags! I love seeing the different stacks, book recommendations, and thriller book reviews that are posted each Thursday. (thank you Penguin Random House Audio for the gifted book).
15. Holiday Book Stack
Maybe it's just me, but I love seeing all the festive book stacks and other photos of book art shared around all the holidays. And I've participated in several holiday-themed book photos, too. In the photo above, I posted this pink stack on Valentine's Day (isn't it so cute?!). Creating cute holiday book stacks is an easy way to add to your bookstagram content ideas.
16. Monthly Wrap-Up
This idea is the opposite of the monthly TBR. At the end of the month, post a stack of the books you finished reading. You can keep it simple and just show which books you finished, or you can make it more complex and sort them by rating, list the books out with their ratings, or any other variation. The sky's the limit!
17. Favorite Book(s) of the Year
Sharing annual wrap-ups and favorite books of the year is one of my favorite times of year on bookstagram! I love seeing which books everyone selects and how other bookstagrammers decide on their favorites. Some choose a favorite for different categories – favorite romance, favorite thriller, etc. Others, like me, try and choose one fiction and one non-fiction favorite for the year. Which is really hard, so sometimes I'm not successful. This obviously cannot be incorporated into your bookstagram content ideas regularly, but it's a great special content addition for the end of each year!
18. Book Pairings
Book pairings is a very wide category, and I've seen SO many iterations of this content idea. I've seen books paired with beer, movies, outfits, and more. My take on this content idea is to pair memoirs with a fiction book. By doing this, I hope to encourage more people to read non-fiction and give memoirs a try. I have fours posts in this pairing series so far and am constantly working to add more. Have fun with this idea!
19. Books and Pets
As much as bookstagrammers love seeing book photos, we love book AND pet photos even more! Photos of books with household pets are some of the cutest photos on bookstagram. I'll fight anyone who says different (kidding…kind of).
20. Bookish Accessories
And last but not least…add "bookish accessories" to your bookstagram content ideas list! We love to see the items folks buy that makes their reading life easier and better. I even wrote an entire blog post on my favorite book accessories. My absolute favorite is my book cart (in the photo above). It's so convenient and makes storing and organizing my recent book mail much easier.
What other bookstagram content ideas can you think of? Feel free to leave a comment below!