Disclaimer: this post may contain affiliate links, which earn me a commission at no additional cost to you.
I don't know about you, but there's something that just fascinates me about cults and cultish behavior. I think it's probably the psychology about how some people are more susceptible to joining cults than others. Or perhaps it's how there are many instances where religion and cults intersect and overlap. I'm not sure. But I'm hooked.
Because I love learning about different cults and their inner workings, I can never say say no to a non-fiction book about cults. Typically, it's a memoir from a cult survivor, but there are a few general non-fiction books that also share valuable information about cults and their behaviors. As you can see from the title of this post (and the content below), I've compiled a list of 16 non-fiction books about cults – a mix of memoir and general non-fiction. Enjoy!
1. Under the Banner of Heaven by Jon Krakauer
Jon Krakauer's literary reputation rests on insightful chronicles of lives conducted at the outer limits. In Under The Banner of Heaven: A Story of Violent Faith, he shifts his focus from extremes of physical adventure to extremes of religious belief within our own borders. At the core of his book is an appalling double murder committed by two Mormon Fundamentalist brothers, Ron and Dan Lafferty, who insist they received a revelation from God commanding them to kill their blameless victims. Beginning with a meticulously researched account of this "divinely inspired" crime, Krakauer constructs a multilayered, bone-chilling narrative of messianic delusion, savage violence, polygamy, and unyielding faith. Along the way, he uncovers a shadowy offshoot of America's fastest-growing religion, and raises provocative questions about the nature of religious belief.
Krakauer takes readers inside isolated communities in the American West, Canada, and Mexico, where some forty-thousand Mormon Fundamentalists believe the mainstream Mormon Church went unforgivably astray when it renounced polygamy. Defying both civil authorities and the Mormon establishment in Salt Lake City, the leaders of these outlaw sects are zealots who answer only to God. Marrying prodigiously and with virtual impunity (the leader of the largest fundamentalist church took seventy-five "plural wives," several of whom were wed to him when they were fourteen or fifteen and he was in his eighties), fundamentalist prophets exercise absolute control over the lives of their followers, and preach that any day now the world will be swept clean in a hurricane of fire, sparing only their most obedient adherents.
Weaving the story of the Lafferty brothers and their fanatical brethren with a clear-eyed look at Mormonism's violent past, Krakauer examines the underbelly of the most successful homegrown faith in the United States, and finds a distinctly American brand of religious extremism. The result is vintage Krakauer, an utterly compelling work of nonfiction that illuminates an otherwise confounding realm of human behavior.
Links: Amazon – Libro.fm – Goodreads
2. Cultish by Amanda Montell
What makes "cults" so intriguing and frightening? What makes them powerful? The reason why so many of us binge Manson documentaries by the dozen and fall down rabbit holes researching suburban moms gone QAnon is because we're looking for a satisfying explanation for what causes people to join—and more importantly, stay in—extreme groups. We secretly want to know: could it happen to me? Amanda Montell's argument is that, on some level, it already has . . .
Our culture tends to provide pretty flimsy answers to questions of cult influence, mostly having to do with vague talk of "brainwashing." But the true answer has nothing to do with freaky mind-control wizardry or Kool-Aid. In Cultish, Montell argues that the key to manufacturing intense ideology, community, and us/them attitudes all comes down to language. In both positive ways and shadowy ones, cultish language is something we hear—and are influenced by—every single day.
Through juicy storytelling and cutting original research, Montell exposes the verbal elements that make a wide spectrum of communities "cultish," revealing how they affect followers of groups as notorious as Heaven's Gate, but also how they pervade our modern start-ups, Peloton leaderboards, and Instagram feeds. Incisive and darkly funny, this enrapturing take on the curious social science of power and belief will make you hear the fanatical language of "cultish" everywhere.
Links: Amazon – Libro.fm – Goodreads
3. The Sound of Gravel by Ruth Wariner
UTH WARINER was the thirty-ninth of her father's forty-two children. Growing up on a farm in rural Mexico, where authorities turn a blind eye to the practices of her community, Ruth lives in a ramshackle house without indoor plumbing or electricity. At church, preachers teach that God will punish the wicked by destroying the world and that women can only ascend to Heaven by entering into polygamous marriages and giving birth to as many children as possible. After Ruth's father—the man who had been the founding prophet of the colony—is brutally murdered by his brother in a bid for church power, her mother remarries, becoming the second wife of another faithful congregant.
In need of government assistance and supplemental income, Ruth and her siblings are carted back and forth between Mexico and the United States, where Ruth's mother collects welfare and her stepfather works a variety of odd jobs. Ruth comes to love the time she spends in the States, realizing that perhaps the community into which she was born is not the right one for her. As she begins to doubt her family's beliefs and question her mother's choices, she struggles to balance her fierce love for her siblings with her determination to forge a better life for herself.
Recounted from the innocent and hopeful perspective of a child, The Sound of Gravel is the remarkable memoir of one girl's fight for peace and love. This is an intimate, gripping tale of triumph, courage, and resilience.
Links: Amazon – Libro.fm – Goodreads – My Review
4. Sex Cult Nun by Faith Jones
Faith Jones was raised to be part an elite army preparing for the End Times. Growing up on an isolated farm in Macau, she prayed for hours every day and read letters of prophecy written by her grandfather, the founder of the Children of God. Tens of thousands of members strong, the cult followers looked to Faith's grandfather as their guiding light. As such, Faith was celebrated as special and then punished doubly to remind her that she was not.
Over decades, the Children of God grew into an international organization that became notorious for its alarming sex practices and allegations of abuse and exploitation. But with indomitable grit, Faith survived, creating a world of her own—pilfering books and teaching herself high school curriculum. Finally, at age twenty-three, thirsting for knowledge and freedom, she broke away, leaving behind everything she knew to forge her own path in America.
A complicated family story mixed with a hauntingly intimate coming-of-age narrative, Faith Jones' extraordinary memoir reflects our societal norms of oppression and abuse while providing a unique lens to explore spiritual manipulation and our rights in our bodies. Honest, eye-opening, uplifting, and intensely affecting, Sex Cult Nun brings to life a hidden world that's hypnotically alien yet unexpectedly relatable. 
Links: Amazon – Libro.fm – Goodreads – My Review
5. A Billion Years by Mike Rinder
Mike Rinder's parents began taking him to their local Scientology center when he was five years old. After high school, he signed a billion-year contract and was admitted into Scientology's elite inner circle, the Sea Organization. Brought to founder L. Ron Hubbard's yacht and promised training in Hubbard's most advanced techniques, Mike was instead put to work swabbing the decks.
Still, Rinder bought into the doctrine that his personal comfort was secondary to the higher purpose of Hubbard's world-saving mission, swiftly rising through the ranks. In the 1980s, Rinder became Scientology's international spokesperson and the head of its powerful Office of Special Affairs. He helped negotiate Scientology's pivotal tax exemption from the IRS and engaged with the organization's prominent celebrity members, including Tom Cruise, Lisa Marie Presley, and John Travolta.
Yet Rinder couldn't shake a nagging feeling that something was amiss—Hubbard's promises remained unfulfilled at his death, and his successor, David Miscavige, was a ruthless and vindictive man who did not hesitate to confine many top Scientologists, Mike among them, to a makeshift prison known as the Hole.
In 2007, at the age of fifty-two, Rinder finally escaped Scientology. Overnight, he became one of the organization's biggest public enemies. He was followed, hacked, spied on, and tracked. But he refused to be intimidated and today helps people break free of Scientology.
Links: Amazon – Libro.fm – Goodreads
6. Don't Call It a Cult by Sarah Berman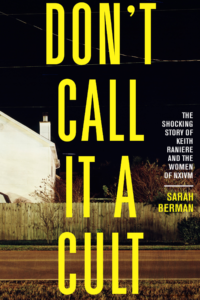 They draw you in with the promise of empowerment, self-discovery, women helping women. The more secretive those connections are, the more exclusive you feel. Little did you know, you just joined a cult.
Sex trafficking. Self-help coaching. Forced labour. Mentorship. Multi-level marketing. Gaslighting. Investigative journalist Sarah Berman explores the shocking practices of NXIVM, a global organization run by Keith Raniere and his high-profile enablers (Seagram heir Clare Bronfman; Smallville actor Allison Mack; Battlestar Galactica actor Nicki Clyne). Through the accounts of central NXIVM figures, Berman unravels how young women seeking creative coaching and networking opportunities found themselves blackmailed, literally branded, near-starved, and enslaved. With the help of the Bronfman fortune Raniere built a wall of silence around these abuses, leveraging the legal system to go after enemies and whistleblowers.
Don't Call It a Cult shows that these abuses looked very different from the inside, where young women initially received mentorship and protection. Don't Call It a Cult is a riveting account of NXIVM's rise to power, its ability to evade prosecution for decades, and the investigation that finally revealed its dark secrets to the world. It explores why so many were drawn to its message of empowerment yet could not recognize its manipulative and harmful leader for what he was—a criminal.
Links: Amazon – Libro.fm – Goodreads
7. Breaking Free by Rachel Jeffs
Born into the Fundamentalist Church of Jesus Christ of Latter-Day Saints, Rachel Jeffs was raised in a strict patriarchal culture defined by subordinate sister wives and men they must obey. No one in this radical splinter sect of the Mormon Church was more powerful or terrifying than its leader Warren Jeffs—Rachel's father.
Living outside mainstream Mormonism and federal law, Jeffs arranged marriages between under-age girls and middle-aged and elderly members of his congregation. In 2006, he gained international notoriety when the FBI placed him on its Ten Most Wanted List. Though he is serving a life sentence for child sexual assault, Jeffs' iron grip on the church remains firm, and his edicts to his followers increasingly restrictive and bizarre.
In Breaking Free, Rachel blows the lid off this taciturn community made famous by John Krakauer's bestselling Under the Banner of Heaven to offer a harrowing look at her life with Warren Jeffs, and the years of physical and emotional abuse she suffered. Sexually assaulted, compelled into an arranged polygamous marriage, locked away in "houses of hiding" as punishment for perceived transgressions, and physically separated from her children, Rachel, Jeffs' first plural daughter by his second of more than fifty wives, eventually found the courage to leave the church in 2015. But Breaking Free is not only her story—Rachel's experiences illuminate those of her family and the countless others who remain trapped in the strange world she left behind.
A shocking and mesmerizing memoir of faith, abuse, courage, and freedom, Breaking Free is an expose of religious extremism and a beacon of hope for anyone trying to overcome personal obstacles.
Links: Amazon – Libro.fm – Goodreads
8. Lost Boy by Brent W. Jeffs
Brent Jeffs is the nephew of Warren Jeffs, the imprisoned leader of the FLDS. The son of a prominent family in the church, Brent could have grown up to have multiple wives of his own and significant power in the 10,000-strong community. But he knew that behind the group's pious public image—women in chaste dresses carrying babies on their hips—lay a much darker reality. So he walked away, and was the first to file a sexual-abuse lawsuit against his uncle. Now Brent shares his courageous story and that of many other young men who have become "lost boys" when they leave the FLDS, either by choice or by expulsion.
Brent experienced firsthand the absolute power that church leaders wield—the kind of power that corrupts and perverts those who will do anything to maintain it. Once young men no longer belong to the church, they are cast out into a world for which they are utterly unprepared. More often than not, they succumb to the temptations of alcohol and other drugs.
Tragically, Brent lost two of his brothers in this struggle, one to suicide, the other to overdose. In this book he shows that lost boys can triumph and that abuse and trauma can be overcome, and he hopes that readers will be inspired to help former FLDS members find their way in the world.
Links: Amazon – Libro.fm – Goodreads
9. Escape by Carolyn Jessop
When she was eighteen years old, Carolyn Jessop was coerced into an arranged marriage with a total stranger: a man thirty-two years her senior. Merril Jessop already had three wives. But arranged plural marriages were an integral part of Carolyn's heritage: She was born into and raised in the Fundamentalist Church of Jesus Christ of Latter-Day Saints (FLDS), the radical offshoot of the Mormon Church that had settled in small communities along the Arizona-Utah border. Over the next fifteen years, Carolyn had eight children and withstood her husband's psychological abuse and the watchful eyes of his other wives who were locked in a constant battle for supremacy.
Carolyn's every move was dictated by her husband's whims. He decided where she lived and how her children would be treated. He controlled the money she earned as a school teacher. He chose when they had sex; Carolyn could only refuse—at her peril. For in the FLDS, a wife's compliance with her husband determined how much status both she and her children held in the family. Carolyn was miserable for years and wanted out, but she knew that if she tried to leave and got caught, her children would be taken away from her. No woman in the country had ever escaped from the FLDS and managed to get her children out, too. But in 2003, Carolyn chose freedom over fear and fled her home with her eight children. She had $20 to her name.
Escape exposes a world tantamount to a prison camp, created by religious fanatics who, in the name of God, deprive their followers the right to make choices, force women to be totally subservient to men, and brainwash children in church-run schools. Against this background, Carolyn Jessop's flight takes on an extraordinary, inspiring power. Not only did she manage a daring escape from a brutal environment, she became the first woman ever granted full custody of her children in a contested suit involving the FLDS. And in 2006, her reports to the Utah attorney general on church abuses formed a crucial part of the case that led to the arrest of their notorious leader, Warren Jeffs.
Links: Amazon – Libro.fm – Goodreads
10. Triumph by Carolyn Jessop
The author of Escape, which detailed her escape along with her eight children from the cult she had been raised in, the extremist Mormon sect the Fundamentalist Church of Jesus Christ of Latter-Day Saints, follows up on the 2008 raid on the Yearning for Zion Ranch, which her ex-husband ran for Warren Jeffs on a sprawling 1,700-acre ranch near Eldorado, Texas.
Links: Amazon – Libro.fm – Goodreads
11. Cults by Max Cutler
Cults prey on the very attributes that make us human: our desire to belong; to find a deeper meaning in life; to live everyday with divine purpose. Their existence creates a sense that any one of us, at any time, could step off the cliff's edge and fall into that daunting abyss of manipulation and unhinged dedication to a misplaced cause. Perhaps it's this mindset that keeps us so utterly obsessed and desperate to learn more, or it's that the stories are so bizarre and unsettling that we are simply in awe of the mechanics that make these infamous groups tick.
The premier storytelling podcast studio Parcast has been focusing on unearthing these mechanics—the cult leaders and followers, and the world and culture that gave birth to both. Parcast's work in analyzing dozens of case studies has revealed patterns: distinct ways that cult leaders from different generations resemble one another. What links the ten notorious figures profiled in Cults are as disturbing as they are stunning—from Manson to Applewhite, Koresh to Raël, the stories woven here are both spellbinding and disturbing.
Cults is more than just a compilation of grisly biographies, however. In these pages, Parcast's founder Max Cutler and national bestselling author Kevin Conley look closely at the lives of some of the most disreputable cult figures and tell the stories of their rise to power and fall from grace, sanity, and decency. Beyond that, it is a study of humanity, an unflinching look at what happens when the most vulnerable recesses of the mind are manipulated and how the things we hold most sacred can be twisted into the lowest form of malevolence.
Links: Amazon – Libro.fm – Goodreads
12. Hollywood Park by Mikel Jollett
So begins Hollywood Park, Mikel Jollett's remarkable memoir. His story opens in an experimental commune in California, which later morphed into the Church of Synanon, one of the country's most infamous and dangerous cults. Per the leader's mandate, all children, including Jollett and his older brother, were separated from their parents when they were six months old, and handed over to the cult's "School." After spending years in what was essentially an orphanage, Mikel escaped the cult one morning with his mother and older brother. But in many ways, life outside Synanon was even harder and more erratic.
In his raw, poetic and powerful voice, Jollett portrays a childhood filled with abject poverty, trauma, emotional abuse, delinquency and the lure of drugs and alcohol. Raised by a clinically depressed mother, tormented by his angry older brother, subjected to the unpredictability of troubled step-fathers and longing for contact with his father, a former heroin addict and ex-con, Jollett slowly, often painfully, builds a life that leads him to Stanford University and, eventually, to finding his voice as a writer and musician.
Hollywood Park is told at first through the limited perspective of a child, and then broadens as Jollett begins to understand the world around him. Although Mikel Jollett's story is filled with heartbreak, it is ultimately an unforgettable portrayal of love at its fiercest and most loyal.
Links: Amazon – Libro.fm – Goodreads
13. Troublemaker by Leah Remini
Leah Remini has never been the type to hold her tongue. That willingness to speak her mind, stand her ground, and rattle the occasional cage has enabled this tough-talking girl from Brooklyn to forge an enduring and successful career in Hollywood. But being a troublemaker has come at a cost.
That was never more evident than in 2013, when Remini loudly and publicly broke with the Church of Scientology. Now, in this frank, funny, poignant memoir, the former King of Queens star opens up about that experience for the first time, revealing the in-depth details of her painful split with the church and its controversial practices.
Indoctrinated into the church as a child while living with her mother and sister in New York, Remini eventually moved to Los Angeles, where her dreams of becoming an actress and advancing Scientology's causes grew increasingly intertwined. As an adult, she found the success she'd worked so hard for, and with it a prominent place in the hierarchy of celebrity Scientologists alongside people such as Tom Cruise, Scientology's most high-profile adherent. Remini spent time directly with Cruise and was included among the guests at his 2006 wedding to Katie Holmes.
But when she began to raise questions about some of the church's actions, she found herself a target. In the end, she was declared by the church to be a threat to their organization and therefore a "Suppressive Person," and as a result, all of her fellow parishioners—including members of her own family—were told to disconnect from her. Forever.
Bold, brash, and bravely confessional, Troublemaker chronicles Leah Remini's remarkable journey toward emotional and spiritual freedom, both for herself and for her family. This is a memoir designed to reveal the hard-won truths of a life lived honestly—from an author unafraid of the consequences.
Links: Amazon – Libro.fm – Goodreads
14. Uncultured by Daniella Mestyanek Young
Behind the tall, foreboding gates of a commune in Brazil, Daniella Mestyanek Young was raised in the religious cult The Children of God, also known as The Family, as the daughter of high-ranking members. Her great-grandmother donated land for one of The Family's first communes in Texas. Her mother, at thirteen, was forced to marry the leader and served as his secretary for many years. Beholden to The Family's strict rules, Daniella suffers physical, emotional, and sexual abuse—masked as godly discipline and divine love—and is forbidden from getting a traditional education.
At fifteen years old, fed up with The Family and determined to build a better and freer life for herself, Daniella escapes to Texas. There, she bravely enrolls herself in high school and excels, later graduating as valedictorian of her college class, then electing to join the military to begin a career as an intelligence officer, where she believes she will finally belong.
But she soon learns that her new world—surrounded by men on the sands of Afghanistan—looks remarkably similar to the one she desperately tried to leave behind.
Told in a beautiful, propulsive voice and with clear-eyed honesty, Uncultured explores the dangers unleashed when harmful group mentality goes unrecognized, and is emblematic of the many ways women have to contort themselves to survive.
Links: Amazon – Libro.fm – Goodreads – My Review
15. Unfollow by Megan Phelps-Roper
Megan Phelps-Roper was raised in the Westboro Baptist Church – the fire-and-brimstone religious sect at once aggressively homophobic and anti-Semitic, rejoiceful for AIDS and natural disasters, and notorious for its picketing the funerals of American soldiers. From her first public protest, aged five, to her instrumental role in spreading the church's invective via social media, her formative years brought their difficulties. But being reviled was not one of them. She was preaching God's truth. She was, in her words, 'all in'.
In November 2012, at the age of twenty-six, she left the church, her family, and her life behind. Unfollow is a story about the rarest thing of all: a person changing their mind. It is a fascinating insight into a closed world of extreme belief, a biography of a complex family, and a hope-inspiring memoir of a young woman finding the courage to find compassion for others, as well as herself.
16. The Road to Jonestown by Jeff Guinn
In the 1950s, a young Indianapolis minister named Jim Jones preached a curious blend of the gospel and Marxism. His congregation was racially integrated, and he was a much-lauded leader in the contemporary civil rights movement. Eventually, Jones moved his church, Peoples Temple, to northern California. He became involved in electoral politics, and soon was a prominent Bay Area leader.
In this riveting narrative, Jeff Guinn examines Jones's life, from his extramarital affairs, drug use, and fraudulent faith healing to the fraught decision to move almost a thousand of his followers to a settlement in the jungles of Guyana in South America. Guinn provides stunning new details of the events leading to the fatal day in November, 1978 when more than nine hundred people died—including almost three hundred infants and children—after being ordered to swallow a cyanide-laced drink.
Guinn examined thousands of pages of FBI files on the case, including material released during the course of his research. He traveled to Jones's Indiana hometown, where he spoke to people never previously interviewed, and uncovered fresh information from Jonestown survivors. He even visited the Jonestown site with the same pilot who flew there the day that Congressman Leo Ryan was murdered on Jones's orders. The Road to Jonestown is the definitive book about Jim Jones and the events that led to the tragedy at Jonestown.
Links: Amazon – Libro.fm – Goodreads
Are there any others you'd add to the list? Let me know in the comments!