Disclaimer: this post may contain affiliate links, which earn me a commission at no additional cost to you.
March is Women's History Month, when we celebrate the critical roles and contributions of women throughout American history. In honor of this monthly observance, I compiled a list of some great non-fiction reads to prioritize during Women's History Month (but these books can and should be read any time of year).
Disclaimer – there are SO many other great non-fiction and fiction books that are great options; this is a limited list!
1. Hidden Figures by Margot Lee Shetterly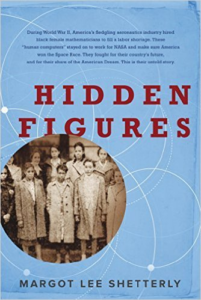 Before Neil Armstrong walked on the moon, a group of professionals worked as 'Human Computers', calculating the flight paths that would enable these historic achievements. Among these were a coterie of bright, talented African-American women. Segregated from their white counterparts, these 'coloured computers' used pencil and paper to write the equations that would launch rockets and astronauts, into space. Moving from World War II through NASA's golden age, touching on the civil rights era, the Space Race, the Cold War and the women's rights movement, 'Hidden Figures' interweaves a rich history of mankind's greatest adventure with the intimate stories of five courageous women whose work forever changed the world.
Links: Amazon – Libro.fm – Goodreads – My Review
2. The Radium Girls by Kate Moore
The Curies' newly discovered element of radium makes gleaming headlines across the nation as the fresh face of beauty, and wonder drug of the medical community. From body lotion to tonic water, the popular new element shines bright in the otherwise dark years of the First World War.
Meanwhile, hundreds of girls toil amidst the glowing dust of the radium-dial factories. The glittering chemical covers their bodies from head to toe; they light up the night like industrious fireflies. With such a coveted job, these "shining girls" are the luckiest alive—until they begin to fall mysteriously ill.
But the factories that once offered golden opportunities are now ignoring all claims of the gruesome side effects, and the women's cries of corruption. And as the fatal poison of the radium takes hold, the brave shining girls find themselves embroiled in one of the biggest scandals of America's early 20th century, and in a groundbreaking battle for workers' rights that will echo for centuries to come.
Links: Amazon – Libro.fm – Goodreads
3. Paradise Falls by Keith O'Brien
Lois Gibbs, Luella Kenny, and other mothers loved their neighborhood on the east side of Niagara Falls. It had an elementary school, a playground, and rows of affordable homes. But in the spring of 1977, pungent odors began to seep into these little houses, and it didn't take long for worried mothers to identify the curious scent. It was the sickly sweet smell of chemicals.
In this propulsive work of narrative storytelling, NYT journalist Keith O'Brien uncovers how Gibbs and Kenny exposed the poisonous secrets buried in their neighborhood. The school and playground had been built atop an old canal–Love Canal, it was called–that Hooker Chemical, the city's largest employer, had quietly filled with twenty thousand tons of toxic waste in the 1940s and 1950s. This waste was now leaching to the surface, causing a public health crisis the likes of which America had never seen before and sparking new and specific fears. Luella Kenny believed the chemicals were making her son sick.
O'Brien braids together previously unknown stories of Hooker Chemical's deeds; the local newspaperman, scientist, and congressional staffer who tried to help; the city and state officials who didn't; and the heroic women who stood up to corporate and governmental indifference to save their families and their children. They would take their fight all the way to the top, winning support from the EPA, the White House, and even President Jimmy Carter. By the time it was over, they would capture America's imagination.
Links: Amazon – Libro.fm – Goodreads – My Review
4. Becoming by Michelle Obama
In a life filled with meaning and accomplishment, Michelle Obama has emerged as one of the most iconic and compelling women of our era. As First Lady of the United States of America—the first African American to serve in that role—she helped create the most welcoming and inclusive White House in history, while also establishing herself as a powerful advocate for women and girls in the U.S. and around the world, dramatically changing the ways that families pursue healthier and more active lives, and standing with her husband as he led America through some of its most harrowing moments. Along the way, she showed us a few dance moves, crushed Carpool Karaoke, and raised two down-to-earth daughters under an unforgiving media glare.
In her memoir, a work of deep reflection and mesmerizing storytelling, Michelle Obama invites readers into her world, chronicling the experiences that have shaped her—from her childhood on the South Side of Chicago to her years as an executive balancing the demands of motherhood and work, to her time spent at the world's most famous address. With unerring honesty and lively wit, she describes her triumphs and her disappointments, both public and private, telling her full story as she has lived it—in her own words and on her own terms. Warm, wise, and revelatory, Becoming is the deeply personal reckoning of a woman of soul and substance who has steadily defied expectations—and whose story inspires us to do the same.
Links: Amazon – Libro.fm – Goodreads
5. The Girls of Atomic City by Denise Kiernan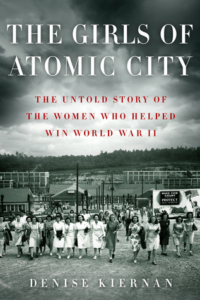 The Tennessee town of Oak Ridge was created from scratch in 1942. One of the Manhattan Project's secret cities, it didn't appear on any maps until 1949, and yet at the height of World War II it was using more electricity than New York City and was home to more than 75,000 people, many of them young women recruited from small towns across the South. Their jobs were shrouded in mystery, but they were buoyed by a sense of shared purpose, close friendships—and a surplus of handsome scientists and Army men!
But against this vibrant wartime backdrop, a darker story was unfolding. The penalty for talking about their work—even the most innocuous details—was job loss and eviction. One woman was recruited to spy on her coworkers. They all knew something big was happening at Oak Ridge, but few could piece together the true nature of their work until the bomb "Little Boy" was dropped over Hiroshima, Japan, and the secret was out. The shocking revelation: the residents of Oak Ridge were enriching uranium for the atomic bomb.
Though the young women originally believed they would leave Oak Ridge after the war, many met husbands there, made lifelong friends, and still call the seventy-year-old town home. The reverberations from their work there—work they didn't fully understand at the time—are still being felt today. In The Girls of Atomic City, Denise Kiernan traces the astonishing story of these unsung WWII workers through interviews with dozens of surviving women and other Oak Ridge residents.
6. My Own Words by Ruth Bader Ginsburg, Mary Hartnett, and Wendy W. Williams
The first book from Ruth Bader Ginsburg since becoming a Supreme Court Justice in 1993—a witty, engaging, serious, and playful collection of writings and speeches from the woman who has had a powerful and enduring influence on law, women's rights, and popular culture.
My Own Words offers Justice Ginsburg on wide-ranging topics, including gender equality, the workways of the Supreme Court, being Jewish, law and lawyers in opera, and the value of looking beyond US shores when interpreting the US Constitution. Throughout her life Justice Ginsburg has been (and continues to be) a prolific writer and public speaker. This book's sampling is selected by Justice Ginsburg and her authorized biographers Mary Hartnett and Wendy W. Williams. Justice Ginsburg has written an introduction to the book, and Hartnett and Williams introduce each chapter, giving biographical context and quotes gleaned from hundreds of interviews they have conducted. This is a fascinating glimpse into the life of one of America's most influential women.
Links: Amazon – Libro.fm – Goodreads
7. She Said by Jodi Kantor and Megan Twohey
For many years, reporters had tried to get to the truth about Harvey Weinstein's treatment of women. Rumors of wrongdoing had long circulated. But in 2017, when Jodi Kantor and Megan Twohey began their investigation into the prominent Hollywood producer for the New York Times, his name was still synonymous with power. During months of confidential interviews with top actresses, former Weinstein employees, and other sources, many disturbing and long-buried allegations were unearthed, and a web of onerous secret payouts and nondisclosure agreements was revealed.
These shadowy settlements had long been used to hide sexual harassment and abuse, but with a breakthrough reporting technique Kantor and Twohey helped to expose it. But Weinstein had evaded scrutiny in the past, and he was not going down without a fight; he employed a team of high-profile lawyers, private investigators, and other allies to thwart the investigation. When Kantor and Twohey were finally able to convince some sources to go on the record, a dramatic final showdown between Weinstein and the New York Times was set in motion.
Nothing could have prepared Kantor and Twohey for what followed the publication of their initial Weinstein story on October 5, 2017. Within days, a veritable Pandora's box of sexual harassment and abuse was opened. Women all over the world came forward with their own traumatic stories. Over the next twelve months, hundreds of men from every walk of life and industry were outed following allegations of wrongdoing. But did too much change—or not enough? Those questions hung in the air months later as Brett Kavanaugh was nominated to the Supreme Court, and Christine Blasey Ford came forward to testify that he had assaulted her decades earlier. Kantor and Twohey, who had unique access to Ford and her team, bring to light the odyssey that led her to come forward, the overwhelming forces that came to bear on her, and what happened after she shared her allegation with the world.
In the tradition of great investigative journalism, She Said tells a thrilling story about the power of truth, with shocking new information from hidden sources. Kantor and Twohey describe not only the consequences of their reporting for the #MeToo movement, but the inspiring and affecting journeys of the women who spoke up—for the sake of other women, for future generations, and for themselves.
Links: Amazon – Libro.fm – Goodreads
8. The Immortal Life of Henrietta Lacks by Rebecca Skloot
Her name was Henrietta Lacks, but scientists know her as HeLa. She was a poor Southern tobacco farmer who worked the same land as her enslaved ancestors, yet her cells—taken without her knowledge—became one of the most important tools in medicine. The first "immortal" human cells grown in culture, they are still alive today, though she has been dead for more than sixty years. If you could pile all HeLa cells ever grown onto a scale, they'd weigh more than 50 million metric tons—as much as a hundred Empire State Buildings. HeLa cells were vital for developing the polio vaccine; uncovered secrets of cancer, viruses, and the atom bomb's effects; helped lead to important advances like in vitro fertilization, cloning, and gene mapping; and have been bought and sold by the billions.
Yet Henrietta Lacks remains virtually unknown, buried in an unmarked grave.
Now Rebecca Skloot takes us on an extraordinary journey, from the "colored" ward of Johns Hopkins Hospital in the 1950s to stark white laboratories with freezers full of HeLa cells; from Henrietta's small, dying hometown of Clover, Virginia — a land of wooden quarters for enslaved people, faith healings, and voodoo — to East Baltimore today, where her children and grandchildren live and struggle with the legacy of her cells.
Henrietta's family did not learn of her "immortality" until more than twenty years after her death, when scientists investigating HeLa began using her husband and children in research without informed consent. And though the cells had launched a multimillion-dollar industry that sells human biological materials, her family never saw any of the profits. As Rebecca Skloot so brilliantly shows, the story of the Lacks family — past and present — is inextricably connected to the history of experimentation on African Americans, the birth of bioethics, and the legal battles over whether we control the stuff we are made of.
Over the decade it took to uncover this story, Rebecca became enmeshed in the lives of the Lacks family—especially Henrietta's daughter Deborah, who was devastated to learn about her mother's cells. She was consumed with questions: Had scientists cloned her mother? Did it hurt her when researchers infected her cells with viruses and shot them into space? What happened to her sister, Elsie, who died in a mental institution at the age of fifteen? And if her mother was so important to medicine, why couldn't her children afford health insurance?
Intimate in feeling, astonishing in scope, and impossible to put down, The Immortal Life of Henrietta Lacks captures the beauty and drama of scientific discovery, as well as its human consequences.
Links: Amazon – Libro.fm – Goodreads
9. Hood Feminism by Mikki Kendall
Today's feminist movement has a glaring blind spot, and paradoxically, it is women. Mainstream feminists rarely talk about meeting basic needs as a feminist issue, argues Mikki Kendall, but food insecurity, access to quality education, safe neighborhoods, a living wage, and medical care are all feminist issues. All too often, however, the focus is not on basic survival for the many, but on increasing privilege for the few. That feminists refuse to prioritize these issues has only exacerbated the age-old problem of both internecine discord and women who rebuff at carrying the title. Moreover, prominent white feminists broadly suffer from their own myopia with regard to how things like race, class, sexual orientation, and ability intersect with gender. How can we stand in solidarity as a movement, Kendall asks, when there is the distinct likelihood that some women are oppressing others?
Links: Amazon – Libro.fm – Goodreads – My Review
10. The Exceptions by Kate Zernike
The Exceptions centers on the life of Nancy Hopkins, a reluctant feminist who became the leader of the sixteen and a hero to two generations of women in science. Hired to prestigious universities at the dawn of affirmative action efforts in the 1970s, Dr. Hopkins and her peers embarked on their careers believing that discrimination against women was a thing of the past—that science was, at last, a pure meritocracy. For years they explained away the discrimination they experienced as the exception, not the rule. Only when these few women came together after decades of underpayment and the denial of credit, advancement, and equal resources to do their work did they recognize the relentless pattern: women were often marginalized and minimized, especially as they grew older. Meanwhile, men of similar or lesser ability had their career paths paved and widened.
The Exceptions is a powerful yet all-too-familiar story that will resonate with all professional women who experience what those at MIT called "21st-century discrimination"—a subtle and stubborn bias, often unconscious but still damaging. As in bestsellers from Hidden Figures to Lab Girl and Code Girls, we are offered a rare glimpse into the world of high-level scientific research and learn about the extraordinary female scientists whose work has been overlooked throughout history, and how these women courageously fought for fair treatment as they struggled to achieve the recognition they rightfully deserve.
Links: Amazon – Libro.fm – Goodreads
Drop other book recommendations for Women's History Month in the comments!