Disclaimer: this post may contain affiliate links, which earn me a commission at no additional cost to you.
Personally, I find that atmospheric book settings are one of my favorite parts of reading. I love a good thriller or family drama that transports me to another country, continent, season, or era. I mean, it's like traveling but a lot cheaper, right?!
For this blog post, I've pulled together 10 atmospheric book recommendations with settings that absolutely BLEW ME AWAY! Here we go:
1. Damnation Spring by Ash Davidson
Colleen and Rich Gundersen are raising their young son, Chub, on the rugged California coast. It's 1977, and life in this Pacific Northwest logging town isn't what it used to be. For generations, the community has lived and breathed timber; now that way of life is threatened. Told in prose as clear as a spring-fed creek, Damnation Spring is an intimate, compassionate portrait of a family whose bonds are tested and a community clinging to a vanishing way of life. An extraordinary story of the transcendent, enduring power of love—between husband and wife, mother and child, and longtime neighbors. An essential novel for our times.
Damnation Spring is hands down one of the most atmospheric books I've ever read. I adored the descriptions of the logging community, the forest, and the Pacific Northwest landscape. Beautiful atmospheric book. I highly recommend the audio; it definitely enhanced the experience.
Links: Amazon – Libro.fm – Goodreads – My Review
2. The Survivors by Jane Harper
Kieran Elliott's life changed forever on the day a reckless mistake led to devastating consequences. The guilt that still haunts him resurfaces during a visit with his young family to the small coastal community he once called home.
Kieran's parents are struggling in a town where fortunes are forged by the sea. Between them all is his absent brother, Finn. When a body is discovered on the beach, long-held secrets threaten to emerge. A sunken wreck, a missing girl, and questions that have never washed away.
While I wasn't a huge fan of this book's plot, I loved the setting. How many books have you read set in Tasmania?! (for me, it's one. This one).
Links: Amazon – Libro.fm – Goodreads – My Review
3. Where the Crawdads Sing by Delia Owens
For years, rumors of the "Marsh Girl" haunted Barkley Cove, a quiet fishing village. Kya Clark is barefoot and wild; unfit for polite society. So in late 1969, when the popular Chase Andrews is found dead, locals immediately suspect her.
But Kya is not what they say. A born naturalist with just one day of school, she takes life's lessons from the land, learning the real ways of the world from the dishonest signals of fireflies. But while she has the skills to live in solitude forever, the time comes when she yearns to be touched and loved. Drawn to two young men from town, who are each intrigued by her wild beauty, Kya opens herself to a new and startling world—until the unthinkable happens.
In Where the Crawdads Sing, Owens juxtaposes an exquisite ode to the natural world against a profound coming of age story and haunting mystery. Owens's debut novel reminds us that we are forever shaped by the child within us, while also subject to the beautiful and violent secrets that nature keeps.
I mean, who hasn't heard of Where the Crawdads Sing by now?! I loved Kya's descriptions of the swamp, nature, and animals. It made a very unique and atmospheric book (obviously).
Links: Amazon – Libro.fm – Goodreads
4. Daisy Darker by Alice Feeney
fter years of avoiding each other, Daisy Darker's entire family is assembling for Nana's 80th birthday party in Nana's crumbling gothic house on a tiny tidal island. Finally back together one last time, when the tide comes in, they will be cut off from the rest of the world for eight hours.
The family arrives, each of them harboring secrets. Then at the stroke of midnight, as a storm rages, Nana is found dead. And an hour later, the next family member follows. Trapped on an island where someone is killing them one by one, the Darkers must reckon with their present mystery as well as their past secrets, before the tide comes in and all is revealed.
Story – spooky. Atmosphere – also spooky.
Links: Amazon – Libro.fm – Goodreads
5. One By One by Ruth Ware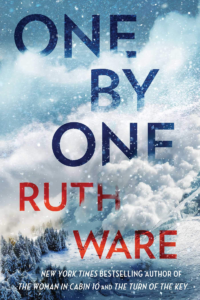 Getting snowed in at a beautiful, rustic mountain chalet doesn't sound like the worst problem in the world, especially when there's a breathtaking vista, a cozy fire, and company to keep you warm. But what happens when that company is eight of your coworkers…and you can't trust any of them?
When an off-site company retreat meant to promote mindfulness and collaboration goes utterly wrong when an avalanche hits, the corporate food chain becomes irrelevant and survival trumps togetherness. Come Monday morning, how many members short will the team be?
I loved the snowy setting of One By One. While I anticipated the twist, I didn't even care. Ruth Ware did a phenomenal job of writing an atmospheric book. I was uncomfortable and terrified the ENTIRE time.
Links: Amazon – Libro.fm – Goodreads – My Review
6. Beartown (series) by Fredrik Backman
People say Beartown is finished. A tiny community nestled deep in the forest, it is slowly losing ground to the ever encroaching trees. But down by the lake stands an old ice rink, built generations ago by the working men who founded this town. And in that ice rink is the reason people in Beartown believe tomorrow will be better than today. Their junior ice hockey team is about to compete in the national semi-finals, and they actually have a shot at winning. All the hopes and dreams of this place now rest on the shoulders of a handful of teenage boys.
Being responsible for the hopes of an entire town is a heavy burden, and the semi-final match is the catalyst for a violent act that will leave a young girl traumatized and a town in turmoil. Accusations are made and, like ripples on a pond, they travel through all of Beartown, leaving no resident unaffected.
Beartown explores the hopes that bring a small community together, the secrets that tear it apart, and the courage it takes for an individual to go against the grain. In this story of a small forest town, Fredrik Backman has found the entire world.
I LOVE THE BEARTOWN SERIES SO MUCH! Did I think I'd be obsessed with a series about a high school hockey team in a small Scandinavian town? Nope. Am I? Absolutely. Fredrik Backman can do no wrong and is one of my favorite authors. I'd pay money for his grocery lists (you might think I'm kidding, but I'm like 60 percent serious).
Links: Amazon – Libro.fm – Goodreads – My Review
7. The Simple Wild (series) by K.A. Tucker
alla Fletcher was two when her mother took her and fled the Alaskan wild, unable to handle the isolation of the extreme, rural lifestyle, leaving behind Calla's father, Wren Fletcher, in the process. Calla never looked back, and at twenty-six, a busy life in Toronto is all she knows. But when her father reaches out to inform her that his days are numbered, Calla knows that it's time to make the long trip back to the remote frontier town where she was born.
She braves the roaming wildlife, the odd daylight hours, the exorbitant prices, and even the occasional—dear God—outhouse, all for the chance to connect with her father: a man who, despite his many faults, she can't help but care for. While she struggles to adjust to this new subarctic environment, Jonah—the quiet, brooding, and proud Alaskan pilot who keeps her father's charter plane company operational—can't imagine calling anywhere else home. And he's clearly waiting with one hand on the throttle to fly this city girl back to where she belongs, convinced that she's too pampered to handle the wild.
Jonah is probably right, but Calla is determined to prove him wrong. As time passes, she unexpectedly finds herself forming a bond with the burly pilot. As his undercurrent of disapproval dwindles, it's replaced by friendship—or perhaps something deeper? But Calla is not in Alaska to stay and Jonah will never leave. It would be foolish of her to kindle a romance, to take the same path her parents tried—and failed at—years ago.
An opposites attract, grumpy x sunshine, small town romance set in remote Alaska? Sign me up. The Simple Wild series is atmospheric book goals.
Links: Amazon – Libro.fm – Goodreads – My Review
8. These Silent Woods by Kimi Cunningham Grant
No electricity, no family, no connection to the outside world. For eight years, Cooper and his young daughter, Finch, have lived in isolation in a remote cabin in the northern Appalachian woods. And that's exactly the way Cooper wants it, because he's got a lot to hide. Finch has been raised on the books filling the cabin's shelves and the beautiful but brutal code of life in the wilderness. But she's starting to push back against the sheltered life Cooper has created for her—and he's still haunted by the painful truth of what it took to get them there.
The only people who know they exist are a mysterious local hermit named Scotland, and Cooper's old friend, Jake, who visits each winter to bring them food and supplies. But this year, Jake doesn't show up, setting off an irreversible chain of events that reveals just how precarious their situation really is. Suddenly, the boundaries of their safe haven have blurred—and when a stranger wanders into their woods, Finch's growing obsession with her could put them all in danger. After a shocking disappearance threatens to upend the only life Finch has ever known, Cooper is forced to decide whether to keep hiding—or finally face the sins of his past.
Such a beautiful book! I loved the relationship between Cooper and Finch – the ending had me in tears.
Links: Amazon – Libro.fm – Goodreads
9. Home Before Dark by Riley Sager
Maggie Holt is used to such questions. Twenty-five years ago, she and her parents, Ewan and Jess, moved into Baneberry Hall, a rambling Victorian estate in the Vermont woods. They spent three weeks there before fleeing in the dead of night, an ordeal Ewan later recounted in a nonfiction book called House of Horrors. His tale of ghostly happenings and encounters with malevolent spirits became a worldwide phenomenon, rivaling The Amityville Horror in popularity—and skepticism.
Today, Maggie is a restorer of old homes and too young to remember the events mentioned in her father's book. But she also doesn't believe a word of it. Ghosts, after all, don't exist. When Maggie inherits Baneberry Hall after her father's death, she returns to renovate the place to prepare it for sale. But her homecoming is anything but warm. People from the past, chronicled in House of Horrors, lurk in the shadows. And locals aren't thrilled that their small town has been made infamous thanks to Maggie's father. Even more unnerving is Baneberry Hall itself—a place filled with relics from another era that hint at a history of dark deeds. As Maggie experiences strange occurrences straight out of her father's book, she starts to believe that what he wrote was more fact than fiction.
It doesn't get more atmospheric than a haunted (or is it?) house. Home Before Dark is my favorite Riley Sager book and one I could only read during daylight hours.
Links: Amazon – Libro.fm – Goodreads
10. The Boys' Club by Erica Katz
Alex Vogel has always been a high achiever who lived her life by the book—star student and athlete in high school, prelaw whiz in college, Harvard Law School degree. Accepting a dream offer at the prestigious Manhattan law firm, she promises her boyfriend that the job won't change her. Yet Alex is seduced by the firm's money and energy . . . and by her cocksure male colleagues, who quickly take notice of the new girl. She's never felt so confident and powerful—even the innuendo-laced banter with clients feels fun.
But as her clients' expectations and demands on her increase, and Alex finds herself magnetically drawn to a handsome coworker despite her loving relationship at home, she begins to question everything—including herself. She knows the corporate world isn't black and white, and that to reach the top means playing by different rules. But who made those rules? And what if the system rigged so that women can't win, anyway?
When something happens that reveals the dark reality of the firm, Alex comes to understand the ways women like her are told—explicitly and implicitly—how they need to behave to succeed in the workplace. Now, she can no longer stand by silently—even if doing what's right means putting everything on the line to expose the shocking truth.
Erica Katz writes incredible atmospheric books (hence, why The Boys' Club is on this list). From the first chapter, I felt immersed in the corporate law world. Highly recommend this one!
Links: Amazon – Libro.fm – Goodreads
What did you think of these atmospheric book recommendations? Any others you'd add? Let me know in the comments below!