Disclaimer: this post may contain affiliate links, which earn me a commission at no additional cost to you.
One topic I am EXTREMELY passionate about is water. I know that may sound strange, but water is so important. Without water, we cannot live, communities cannot thrive, and economies cannot prosper. For my full-time job, I work in the drinking water sector, so maybe I get a little nerdy about water. But I will tell anyone, anywhere, at any time how important water, especially drinking water, is for everyone and that no one should worry whether their water is safe to drink.
Because I love water so much, I worked with Libro.fm to create an audiobook playlist featuring books about water! There are so many reasons I love Libro.fm:
They let subscribers and influencers make curated playlists.
Their app is easy-to-use, affordable, and all around wonderful.
My subscription supports an indie bookstore of my choosing (I chose a bookstore in my neighborhood to support).
For this post, I am going to share the list of water-related non-fiction books in my curated playlist. You can find the full playlist on Libro.fm. Keep reading for a breakdown of all 7 books included in the playlist!
1. Water: A Biography by Giulio Boccaletti
A revelatory history–spanning continents and millennia–of how the distribution of water has shaped human civilization, by the chief strategy officer and global ambassador of water at The Nature Conservancy.
In this richly narrated and authoritative work–combining environmental and societal history–Giulio Boccaletti begins with the earliest civilizations of sedentary farmers on the banks of the Nile, the Tigris, and the Euphrates. He describes how these societies were made possible by sea level changes from the last glacial melt. He examines how this sedentary farming led to irrigation and multiple cropping, which, in turn, resulted in an explosion in population and the specialization of labor. We see how irrigation structure led to social structure–inventions like the calendar sprung from agricultural necessity; how, in Ancient Greece, communal ownership of wells laid the groundwork for democracy; how the Greek and Roman experience dealing with water security was the seed for tax systems. And he makes clear how the modern world as we know it began with a legal structure for the development of water infrastructure. In its scope and clarity, Water: A Biography provides a fascinating framework through which we can more fully understand society's relationship to, and fundamental reliance on, the most elemental substance on our planet.
Links: Amazon – Libro.fm – Goodreads
2. The Worth of Water by Gary White and Matt Damon
From the founders of nonprofits Water.org & WaterEquity Gary White and Matt Damon, the incredible true story of two unlikely allies on a mission to end the global water crisis for good.
On any given morning, you might wake up and shower with water, make your coffee with water, flush your toilet with water–and think nothing of it.
But around the world, more than three-quarters of a billion people can't do any of that–because they have no clean water source near their homes. And 1.7 billion don't have access to a toilet. This crisis affects a third of the people on the planet. It keeps kids out of school and women out of work. It traps people in extreme poverty. It spreads disease.
It's also solvable. That conviction is what brought together movie actor Matt Damon and water expert and engineer Gary White. They spent years getting the answer wrong, then halfway right, then almost right. Over time, they and their organization, Water.org, have found an approach that works. Working with partners across East Africa, Latin America, South Asia, and Southeast Asia, they've helped over 40 million people access water and/or sanitation.
In The Worth of Water, Gary and Matt take us along on the journey–telling stories as they uncover insights, try out new ideas, and travel between the communities they serve and the halls of power where decisions get made. With humor and humility, they illuminate the challenges of launching a brand-new model with extremely high stakes: better health and greater prosperity for people allover the world.
The Worth of Water invites us to become a part of this effort–to match hope with resources, to empower families and communities, and to end the global water crisis for good. All the authors' proceeds from the sale of this book will be donated to Water.org.
Links: Amazon – Libro.fm – Goodreads – My Review
3. Paradise Falls by Keith O'Brien
Lois Gibbs, Luella Kenny, and other mothers loved their neighborhood on the east side of Niagara Falls. It had an elementary school, a playground, and rows of affordable homes. But in the spring of 1977, pungent odors began to seep into these little houses, and it didn't take long for worried mothers to identify the curious scent. It was the sickly sweet smell of chemicals.
In this propulsive work of narrative storytelling, NYT journalist Keith O'Brien uncovers how Gibbs and Kenny exposed the poisonous secrets buried in their neighborhood. The school and playground had been built atop an old canal–Love Canal, it was called–that Hooker Chemical, the city's largest employer, had quietly filled with twenty thousand tons of toxic waste in the 1940s and 1950s. This waste was now leaching to the surface, causing a public health crisis the likes of which America had never seen before and sparking new and specific fears. Luella Kenny believed the chemicals were making her son sick.
O'Brien braids together previously unknown stories of Hooker Chemical's deeds; the local newspaperman, scientist, and congressional staffer who tried to help; the city and state officials who didn't; and the heroic women who stood up to corporate and governmental indifference to save their families and their children. They would take their fight all the way to the top, winning support from the EPA, the White House, and even President Jimmy Carter. By the time it was over, they would capture America's imagination.
Sweeping and electrifying, Paradise Falls brings to life a defining story from our past, laying bare the dauntless efforts of a few women who–years before Erin Brockovich took up the mantle– fought to rescue their community and their lives from the effects of corporate pollution and laid foundation for the modern environmental movement as we know it today.
Links: Amazon – Libro.fm – Goodreads – My Review
4. Life in the City of Dirty Water by Clayton Thomas-Muller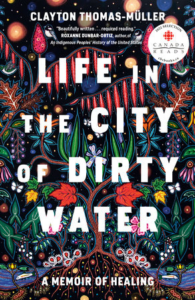 For much of his life, Clayton Thomas-Muller's very existence has been scrutinized and vilified. As a child, he endured the intergenerational trauma that resulted from his family attending residential school. Growing up Cree in downtown Winnipeg, Canada, Clayton faced systemic racism and violence in school and on the streets, which led him to use his fists to defend himself and earn his livelihood. He escaped the hold that drugs and alcohol had on his life by reconnecting with his Cree heritage. For twenty years, he has been a campaigner with organizations including the Indigenous Environmental Network and 350.org, on the front lines of stopping the assault of industry on Indigenous peoples' lands. Using a nonlinear, oral storytelling style, Life in the City of Dirty Water offers the reflections of a man in midlife, telling his inner child, "I'm here now and I'm going to keep you safe."
Links: Amazon – Libro.fm – Goodreads – My Review
5. Silent Spring by Rachel Carson
Silent Spring is an environmental science book. The book documents the adverse environmental effects caused by the indiscriminate use of pesticides. Carson accused the chemical industry of spreading disinformation, and public officials of accepting the industry's marketing claims unquestioningly.
The book appeared in September 1962 and the outcry that followed its publication forced the banning of DDT and spurred revolutionary changes in the laws affecting our air, land, and water. Carson's book was instrumental in launching the environmental movement.
Links: Amazon – Libro.fm – Goodreads
6. Exposure by Robert Bilott
The story that inspired the major motion picture Dark Waters, starring Mark Ruffalo as Robert Bilott.
In 1998, Rob Bilott began a legal battle against DuPont that would consume the next twenty years of his life, uncovering the worst case of environmental contamination in modern history and a corporate cover-up that put the health of hundreds of thousands of people at risk. Representing a single farmer who was convinced the creek on his property had been poisoned by runoff from a nearby DuPont landfill, Rob ultimately discovers the truth about PFAS—unregulated, toxic chemicals used in the manufacturing of Teflon and a host of other household goods. DuPont's own scientists had issued internal warnings for years about the harmful effects of PFAS on human health, but the company continued to allow these chemicals to leach into public drinking water. Until Rob forced them to face the consequences.
Exposure is an unforgettable legal drama about malice and manipulation, the failings of environmental regulation, and one lawyer's quest to expose the truth about this previously unknown—and still unregulated—chemical that presents one of the greatest human health crises of the 21st century.
Links: Amazon – Libro.fm – Goodreads
7. Desperate by Kris Maher
For two decades, the water in the taps and wells of Mingo County didn't look, smell, or taste right. Could the water be the root of the health problems—from kidney stones to cancer—in this Appalachian community? Environmental lawyer Kevin Thompson certainly thought so.

For seven years, Thompson waged an epic legal battle against Massey Energy, West Virginia's most powerful coal company, helmed by CEO Don Blankenship. While Massey's lawyers worked out of a gray glass office tower in Charleston known as "the Death Star," Thompson set up shop in a ramshackle hotel in the fading coal town of Williamson. Working with fellow lawyers and a crew of young activists, Thompson would eventually uncover the ruthless shortcuts that put the community's drinking water at risk.

Retired coal miners, women whose families had lived in the area's coal camps for generations, a respected preacher and his brother, all put their trust in Thompson when they had nowhere else to turn. Desperate is a masterful work of investigative reporting about greed and denial, "both a case study in exploitation of the little guy and a playbook for confronting it" (Kirkus Reviews). Maher crafts a revealing portrait of a town besieged by hardship and heartbreak, and an inspiring account of one tenacious environmental lawyer's mission to expose the truth and demand justice.
Links: Amazon – Libro.fm – Goodreads – My Review
Are there any others you'd add to the list? Should I do a list of water-related fiction books next?